Sound Records' History in Azerbaijan
The history of sound recording in Azerbaijan started in 1901, from opening of Russian Imperial Music Society's local branch in Baku.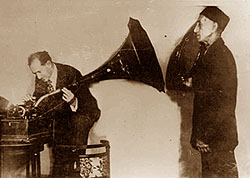 Professor Byul-Byul
and
Cabbar Garyagdioglu
At the first decade of XX century the interest in Azerbaijan folklore was continuously increased.
The great Azerbaijan singer Jabbar Garyagdioglu was the first, who recorded his voice to a gramophone disc. His first accompanist was famous tar player Gurban Primov. Alesker Abdullayev, Mejid Behbudov, Meshedi Muhammad Farzaliyev, Kechichioglu Muhammad, Seyid Shushinskiy and others, whose names and voices made a great significant contribution to our history and culture also made records.In addition we could name the honored actors of Azerbaijan theaters.
The quantity of gramophone joint-stock companies increased in Baku in 1913: English "Gramophone" and French "Pate" opened their branches in Baku.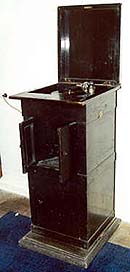 Music box

(The State Archive of Sound Records)
"Sport-Record" company was the first in Azerbaijan music culture recording. At the label of this company there were music instruments: tar, kemancha and def. The company recorded music comedies, written by Zulfugar Hajibeyov "Evliken Subay" ("Married Bachelor") and "Elli Yashinda Javan" ("Young Man of 50"). It is stored at the State Sound Archives till nowadays.
In 1916, Kiev's branch of "Extrafon" Company recorded first Azerbaijan opera, "Leyli & Mejnun" by Uz. Hajibeyov. Unfortunately it did not reach modern period.
In 1932, Byul-Byul, soloist of Azerbaijan Opera and Ballet Theater started to create Scientific-Research laboratory in Azerbaijan State Conservatoire.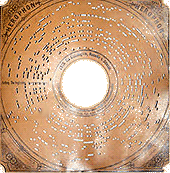 Herophon
(The State Archive of Sound Records)
The goal of the first at the Caucasus scientific-research structure was to collect, study and distribute Azerbaijan folk melodies. Famous Russian musicologists V. Pashalov and A. Belayev, composers Uzeyir Hajibeyov, Niyazi, Seyid Rustamov, young Gara Garayev, Jevdet Hajiyev and future theorist Z. Stelnic participated in this work.
The first folklore expedition to Nagorno Garabakh could record more than 150 folk songs to gramophone roller. Those times there were only two phonographs, Dictaphone at the laboratory.
In 1932-1939, there were expeditions to Ganja-Shamkir, Sheki-Zagatala regions and those ones Armenia and Georgia (Dilijan, Basarkechar, Borchali and Sandar), where Azerbaijan people lived.
The same years Noginsk Factory recorded famous singers and saz players Ashig Mirza (Bayramov), Ashid Asad (Rzayev), Asig Islam (Yusifov), Asig Gara (Mollayev), and Asig Teymur (Husseynov). Thus their voices reached these days. The opera "Koroglu" by Hajibeyov, opera "Nargiz" by M. Magomayev, opera "Shakhsenem" by R. Gliyer were recorded in 1940, together with well - known ashigs and singers.